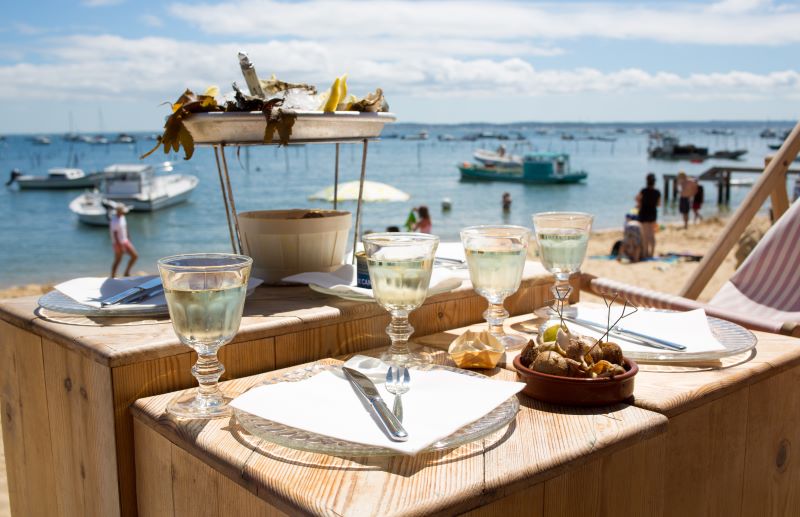 Focus on – Arcachon in Gironde
---
Arcachon sits 55km's south west of Bordeaux and is a wonderful seaside resort. It is a popular tourist destination and attracts visitors from all over France and Europe. The sandy beaches and mild climate make it perfect for families and it has a wide array of excellent bars and restaurants.
A quick look at the tourist office's website, www.arcachon.com shows why this is such a popular town and area. There is something to do for everyone and the scenery is magnificent. From Cap Ferret, through Andernos-les-Bains and round to Arcachon itself the bay offers sandy beaches, rugged inlets and spectacular views throughout. Most visitors will take a cruise out into the bay so that they can appreciate the full majesty of the scenery, with some hardy souls even stopping on the Ile aux Oiseaux (bird island) which is home to 150 different bird species but also 50 wooden cabins, with no running water or electricity. The two famous stilt cabins that adorn many postcards are not open to visitors. Arcachon is also famous for the exceptional local markets which are open all year round. The produce is almost all local from seasonal fruits and vegetables to fish, seafood and shellfish, all freshly landed. The main market is held every morning in Halle Baltard on Place des Marquises, it's the perfect place to stroll around, taste some oysters and white wine, or even have a full meal. The Bar du Marché is open every market day until 20h00 and during the summer the night market is always fun and lively. If you already own a holiday home in the Arcachon area then why not get in touch with Héloise Manceau who would be delighted to help you with its management and seasonal rental.
The local property market
Demand for a holiday home in Arcachon is currently red hot, with buyers coming from Bordeaux, Toulouse, Paris and overseas. The average price of an apartment in the town itself is 7,450 euros per m2 but you will pay a big premium for a sea view or to be in the centre of town. According to research from Meilleursagents prices rose by 1.5% last year and have risen by almost 36% over the last five years. If you are looking to buy a holiday home in or around Arcachon then you should definitely get your finances in place and be prepared to move quickly. You can see a selection of local properties, offered by our sister agency Leggett Immobilier, here.
A holiday home in Arcachon (or any of the nearby towns) could prove an excellent investment as rental demand is strong, with international buyers able to fly into Bordeaux. Why not ask us for a free rental income study on your holiday home there?
What's nearby?
The Dune du Pilat is the first "must see" on the list. It is the tallest sand dune in Europe and absolutely worth the climb. On one side you look down over the top of the adjoining forest, whilst on the other you have sweeping views out over the bay. The dune is over 2Km's in length and is over 100m above sea level. There are plenty of bars and restaurants at the foot of the main access, so your efforts will not go unrewarded.
To the east Gujan Mestras is a popular town and home to a picturesque and challenging golf course. Prices are lower than in Arcachon, with an average of 3,940 euros per m2 for an apartment. Drive right around the bay to swanky Cap Ferret and they rise to 8,140 euros per m2, this is an upmarket resort famous for its lighthouse and the narrow-gauge railway that links the ferry at Bélisaire with the Atlantic beaches.