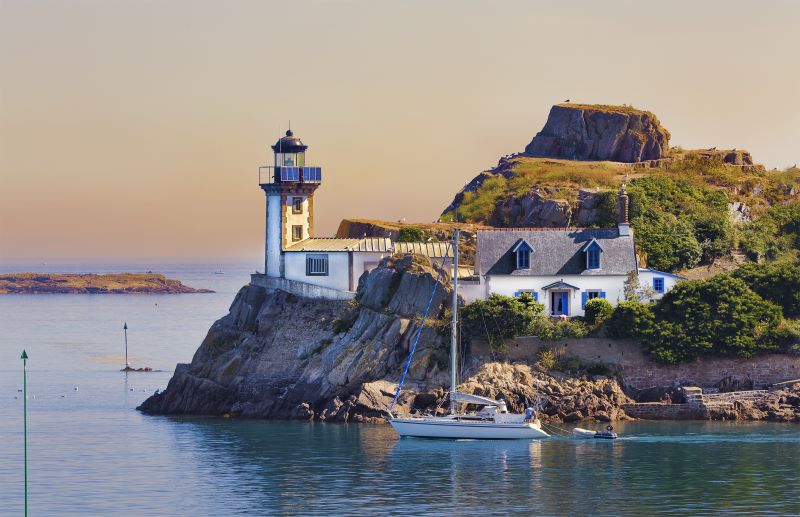 Focus on – Carantec in Finistère
---
Carantec in Brittany is a simply sensational place to own a holiday home, and is a popular spot with both domestic and international tourists. Situated in the beautiful Baie de Morlaix it is one of the most charming coastal locations in France, and with the Gulf stream warming the winters it is a year round destination.
One of the first things you will notice here is the imposing Chateau du Taureau, a granite fortress that dominates Morlaix Bay. From April to September you can take a boat trip out to explore this symbolic monument from either Carantec (the boat leaves from the Plage du Kelenn and takes 15 minutes) or Plougasnou (the boat trip is 40 minutes and leaves from Port du Diben). Since 1926 Carantec has been designated as a Station Balnéaire and it welcomes tourists from all over the world. It boasts some wonderful restaurants and the oyster farms date back to 1892 – if seafood is your thing then Carantec should definitely be on your list of places to visit.
The local property market
Demand for a holiday home in Carantec is currently red-hot, with many buyers from Paris looking to cash in on some of the equity they have from their main residence, and take advantage of the lower prices here. The Notaires de France tell us that the average house price in Carantec is 2,550 euros per m2, whilst apartments are 1,110 euros per m2. This is also a popular spot with UK buyers, as the ferry port at Roscoff is under 20km's away. If you would like somebody to look after your purchase then both Fanny Lechatellier and Boris Kermarrec are local.
A holiday home in Carantec (or any of the nearby towns) could prove an excellent investment as prices have been stable for many years, whilst rental demand is strong. Why not ask us for a free rental income study on your holiday home there?
What's nearby?
Morlaix is another charming town, with winding streets of cobbled stones and traditional stone/timber houses that look as though they belong on the front of a chocolate box. It is a popular location for families with children as the beaches are great for surfing, sand buggys and kite flying. The pretty marina is the ideal spot if you are looking for holiday pictures worthy of posting on Instagram.
To the north, Roscoff is well known to tourists from the UK as you can sail to Plymouth in as little as 5 hrs 15 minutes on Brittany Ferries. It is also a pretty town in its own right and is known as the "Petite cité de caractere de Bretagne" due to its picturesque architecture.