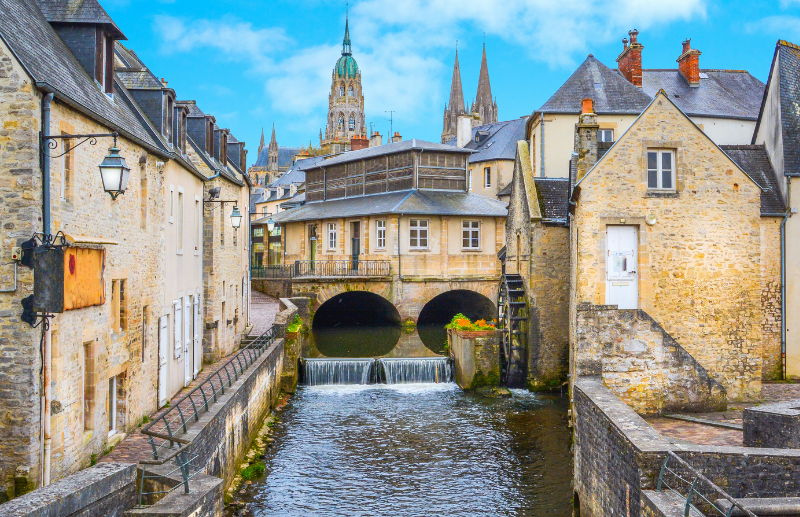 Focus on – Bayeux in Calvados
---
Bayeux lies 30km north-west of Caen and is a beautiful, medieval, town that just oozes history – originally known as Augustodurum in the Roman Empire, it dates back to 1BC. Now, it is most famous for being the home of the 70m long Bayeux Tapestry which tells the story of events between 1064 – 1066 culminating in the Battle of Hastings. Around 400,000 visitors pa flock to Bayeux to view the tapestry, which features on UNESCO's "Memory of the World" register.
Each year, on the first weekend in July, the Bayeux Medieval Festival makes it a particularly fun place to visit. The whole town joins in and it is the perfect time to explore the whole area. Calvados is an ideal spot for all types of visitor – the natural landscapes include safe & sandy beaches, rivers, lakes and islands. The coastal stretch between Bayeux and Caen includes Arromanches-les-Bains (where the allies established an artificial harbour during the invasion of Normandy) and Courseulles-sur-Mer (a bustling fishing port, popular as a second-home spot with Parisians).
What's the property market like?
Excellent value is the short answer. This is an area that is perfectly located with easy access from Paris, the UK and northern Europe in general. An apartment in Bayeux will set you back around 1,850 euros per m2, while it would be 1,760 euros per m2 in Arromanches. Prices in picturesque Courseulles are higher, at 3,220 euros per m2, mainly thanks to the fact that it is so popular with second home owners. Of course, these are a fraction of the price of an apartment in Paris. Our sister company, Leggett Immobilier, has a strong presence in the area and you can see a sample of their current listings held by local agent, Stephen Buss, here.
The Bayeux Tapestry attracts around 400,000 vistors a year, all of whom need accommodation. Nearby Courseulles is also a popular second-home location.

Isabelle Boski
Do you have a Property Manager in the area?
We do indeed. Isabelle Boski is originally from Paris, but she moved to Normandy as it offered a better quality of life for her young daughter. She is experienced in Property Management having helped her parents welcome French and International tourists to their family holiday home. Isabelle offers a free key-holding service as well as full Concierge and Holiday Home Rental Management services. As a former teacher and translator she really can help international owners.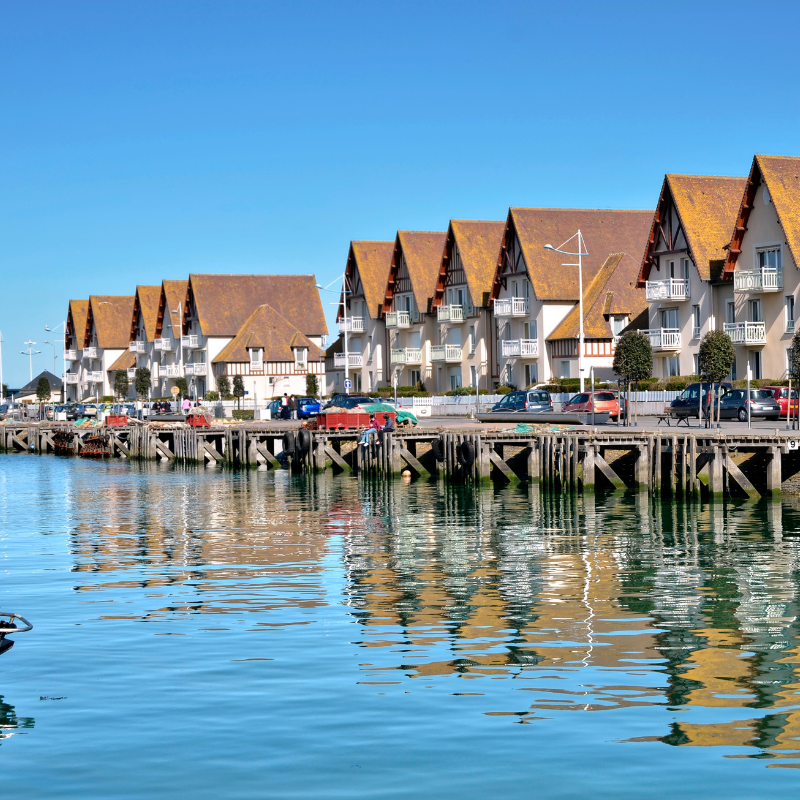 What kind of people will like this area?
We think that this is an area for everyone.
families will like the safe sandy beaches and fun activities
history buffs will like exploring Medieval Bayeux
those more interested in modern history can explore the Normandy landing sites
Parisians flock to beautiful Courselles-sur-Mer
adventurers will like the water-sports available
those on a budget will find great value in the numerous local markets